Sotoba Komachi
by Yukio Mishima; translated by Donald Keene
Performance Dates
November 17, 18, and 19 @ 7:30pm
Venue
Mandell Weiss Forum Theatre
Ticketing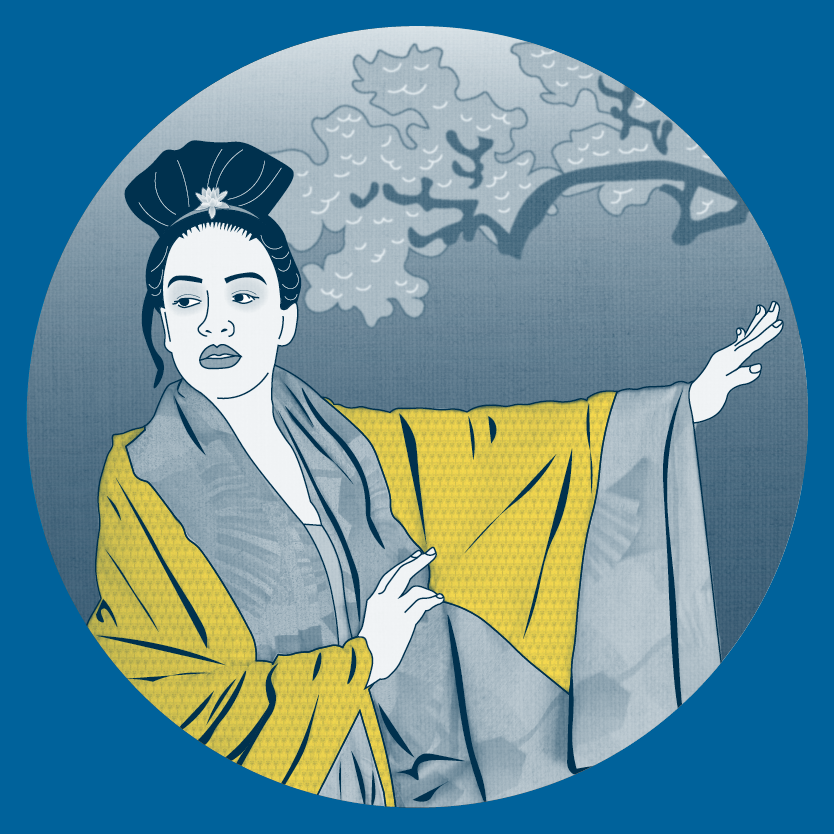 Stay tuned for a full digital program!
The Cast
The Old Woman: Lisette Velandia
The Poet: Naomi Louie
The Lovers:
Sophia Casas
Lauren Dong
Stephen Loftesnes
Joseff Paz
Ashley Shilts
Danniel Ureña
The Creative Team
Director: 
Michelle Huynh
Scenic Designer: Nicholas Ponting MFA '21
Costume Designer: Euihyun Song
Lighting  Designer: Harrison Foster
Sound Designer: Stewart Blackwood
Assistant Lighting Designer: Elba Emicente
Assistant Sound Designer: Ethan Eldred
Production Stage Manager: Ruby Hays
About the Director
Michelle Huynh is a third-year PhD student at UCSD previously based in Honolulu, HI and the Southeast/East Asian region. Michelle is a graduate of the University of Hawaii at Manoa where she received her MFA in Asian Theatre Performance. UC San Diego credits: Backwaters (Dramaturgy, WNPF '21). Select directing credits: Luar Biasa (Singapore City), Vietgone (EPOCH Theatre, Tong), Madame Mao's Memories (UH-Manoa).
About the Playwright
Yukio Mishima was a Japanese playwright, poet, and writer. Recognized as one of the most important Japanese authors of the 20th century, Mishima was also considered for the Nobel Prize in Literature in 1968. His notable works include Confessions of a Mask (1949), The Temple of the Golden Pavilion (1956), and The Chrysanthemum on the Tenth (1961). A die-hard Tokyoite and Japanese nationalist , he reworked over ten canonical noh and kabuki plays for the contemporary, post-WWII stage. Sotoba Komachi is one of his modern adaptations.
About the Production
A modern adaptation of a Japanese noh theatre classic, Yukio Mishima's Sotoba Komachi tells the story of a 99 year-old woman's encounter with a poet who deems youth and romance as life's most crucial desirabilities. When the old woman takes the poet on an amorous, picturesque journey of her past, the memories that unfold incite both tragedy and peace on the stage. In our intercultural production of Mishima's re-telling, we explore the strained relationship amongst time, beauty, and death and the gendered traumas of the aging body and hopeful impossibilities.